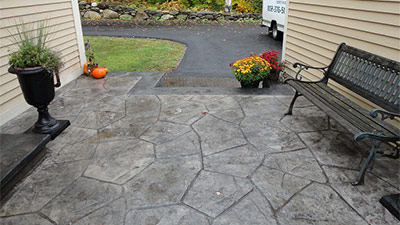 Typically stamped concrete is used outside to enhance a home or business with elegant stone, brick or wood patterns for walkways, patios, driveways, and steps. Stamped concrete holds up better than pavers or natural stone, never need weeding, can be customized with many different colors and styles and will add a touch of elegance and class to any property at a fraction of the cost.
The process
Sub-grade – Any concrete placement requires proper sub-grade preparation. Boundaries of the slab are determined, all organic and frost prone soils are removed to a depth of 2 feet. Sand or stone is replaced, leveled and compacted.
Forming – With stamped concrete we often use bendable forms to create an attractive, flowing outline for your project. Grades are set to control water run off and depth of concrete is based on the use of the concrete.
Reinforcement – At Vermont hardscapes we will add extra reinforcement to your concrete to ensure a stronger product. We do this with rebar and wire mesh, which vary with the application, and we always use fiberglass reinforced concrete.
Pour – We use a stronger 4000lb. concrete mix in all of our stamping projects, which can be colored by mixing color with the concrete or applying color after placement to the top surface of the concrete. Concrete is screeded flat and vibrated for extra strength.
Stamp – After concrete has set slightly we apply a colored release and antique agent in a contrasting color, and begin stamping with the desired pattern. We use the highest quality stamps that produce the most realistic texture and detail. Once the stamping is complete concrete is left to cure and harden until the next day.
Wash, cut and seal – the next day we come back and cut control joints into the concrete to control cracking. We then wash the excess antique agent from the surface and seal the concrete with a cure and seal compound to further protect and enhance the surface color.
Price: $9.00 – $16.00 per square foot
For more information contact us or request a quote!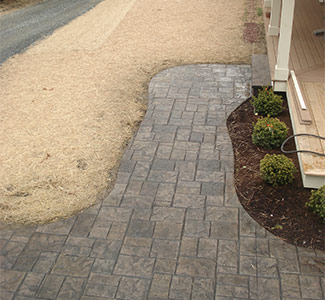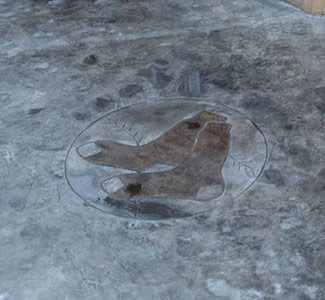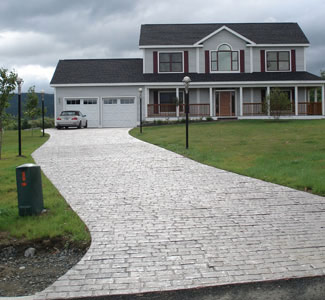 ---
View some of our past concrete stamping work