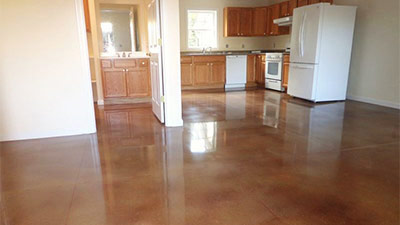 Polished concrete floors offer are an exceptional flooring option, providing an attractive, low maintenance surface in an eco-friendly package.
The no- VOC process is 13 steps of grinding and honing the concrete through progressively higher diamond grits to produce a very hard, durable and attractive surface.
Due to the nature of the grinding process it is very important to have very heavy, powerful equipment to produce the best possible polished surface. At Vermont Hardscapes we have invested in thet best polishing equipment available as well as the use of the highest quality densifiers and dyes, we can grind dust free with our HEPA certified industrial vacuums, and with countless hours of concrete polishing and training under our belts, we can provide the highest quality polished concrete surfaces in the area.
Price: $4.40 – $7.00 per square foot
For more information contact us or request a quote!